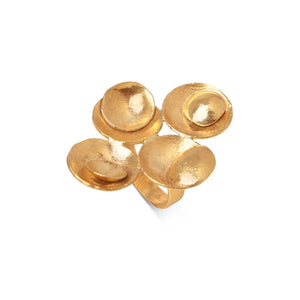 Moon & Sun I
regular price
balance price
€86,00
---
Ring inspired by the Sun and Moon.
--
Weight: 5.51g
Origin: Portugal
Materials: 925 silver with yellow gold plated
Product Availability
If the Customer chooses to pay by Bank Transfer, Paypal or Credit Card, YOUNIK only processes this order after confirmation of the respective payment, so YOUNIK cannot guarantee the availability of the products until the beginning of said processing. On the product details page you will find the estimated shipping time (Deadline for Shipping) expressed in working days. To the estimated shipping time, there is also the shipping time, which depends on the carrier and the destination of your order. YOUNIK only ships on working days. In this way, neither weekends nor holidays are counted for estimating order delivery.
Any delay verified in the shipment of products, given the estimated dates presented, does not confer the right to compensation.
Shipping costs
The transport of the products is covered by insurance against loss or possible damage that may occur during transport.
The product is packaged with all care to avoid damage during transport in order to ensure full customer satisfaction.
ORDER VALUE SHIPPING
Portugal Continent Portugal Islands Europe Brazil Rest of the World
Less than 35€ 4€ 4€ 15€ 29€ 39€
€35 or more Free Free €15 €29 €39
Any questions please contact us via email: geral@younik.com.pt
1. Measure the inside diameter (largest measurement) in millimeters of a comfortable ring.
2. Look up its size in the corresponding table.
| measure | Size | measure | Size | measure | Size |
| --- | --- | --- | --- | --- | --- |
| 14.65mm | N7 | 16.88mm | N13 | 18.79mm | N19 |
| 15.29mm | N8 | 17.20mm | N14 | 19.11mm | N20 |
| 15.61mm | N9 | 17.52mm | N15 | 19.43mm | N21 |
| 15.92mm | N10 | 17.83mm | N16 | 19.75mm | N22 |
| 16.24mm | N11 | 18.15mm | N17 | 20.06mm | N23 |
| 16.56mm | N12 | 18.47mm | N18 | 20.38mm | N24 |